Pre-CSN BREAKFAST
---
At the end of the month, right before the next CSN payment, a student may be short on money. Here is the the solution!
Consensus offers all union members a FREE pre-CSN breakfast just before CSN arrives each month. In Linköping on the last Wednesday before CSN at Café Örat and in Norrköping the breakfast is usually held on the last Thursday before CSN at Kåkenhus. Information will be published on our Facebook page and in the newsletters. Welcome!
CAFÉ ÖRAT
---
Discounted prices on various drinks and fika sold in the café. This does not apply to patches.
As Section or underlying committee you may order Coffee or tea from the Café at a discounted price. This is perfect for the section meetings and other events. For more information please contact cafechef@consensus.liu.se
PUB ÖRAT
---
Discounted prices on various drinks and snacks sold at the Pub. This does not apply to patches.
TRAPPAN
---
As a member in Consensus, you get a 15 SEK discount on admission to all student-oriented events at the student union house "Trappan" in Norrköping.
DISCOUNTED TICKET PRICE ON "KRAVALLER"
---
As a member, you get around a 10% discount on tickets to the student parties called "kravaller".
FOOD DISCOUNT AT KÅRHUSEN
---
As a member, you get a 20% food discount at the union houses [hg], KK and Trappan.
THE SECTION
---
As a member of Consensus, you automatically become a member in your section as well.
The section membership has several associated benefits, and also the opportunity to be
active in the section, for example as a sponsor, as a "festerist" that organises parties, or as a
section chairman.
INFLUENCE
---
As a union member, you help us to influence decision-making bodies within the university.
We conduct education- and work environment monitoring and are responsible for a lot of
student social activities that take place within student life. Feel free to contact us if you are
interested in getting involved!
RENT THE CONSENSUS CAR
---
As a Consensus member, you have the privilege of renting a Consensus car. Details and
information can be found in the car agreement. Prices that apply are: SEK 100 per two-hour
period, SEK 400 per day and SEK 20 per mile.
STUDENT UNION BUILDING ÖRAT
---
Union members can rent Kårhuset Örat at a discounted price. Read more and send a
booking request at http://orat.nu/arrangera/.
ARE YOU MISSING SOMETHING?
---
We are always curious about what membership benefits you as a member want, get in touch
at msa@consensus.liu.se with the subject line "Suggestions for membership benefits".
CONSENSUS OFFICE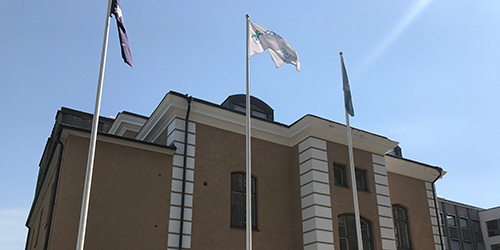 Kårhuset Örat is located just outside the entrance to the US campus and offers students study places, a café and a party room. On the top floor is the Consensus office.